A support service for children, youth and their families while receiving therapy services at One Kids Place.
Social Work is a service that can assist your child and family if you have concerns with:
Support with appropriate funding, acceptance and referrals of a new diagnosis
Assistance with identifying services needed
Parenting and/or behaviour strategies
Social Work Services Include:
Our Social Work Team works with individuals directly as well as group therapy sessions. Social Workers works alongside a therapy team and has establishes relationships with community agencies and services to facilitate client and family care. One Kids Place provides support through loaning parenting materials and hosting sibling support groups.
Our One kids Place Social Work teams works directly with the Blind/Low Vision Program as well as Infant Hearing Program.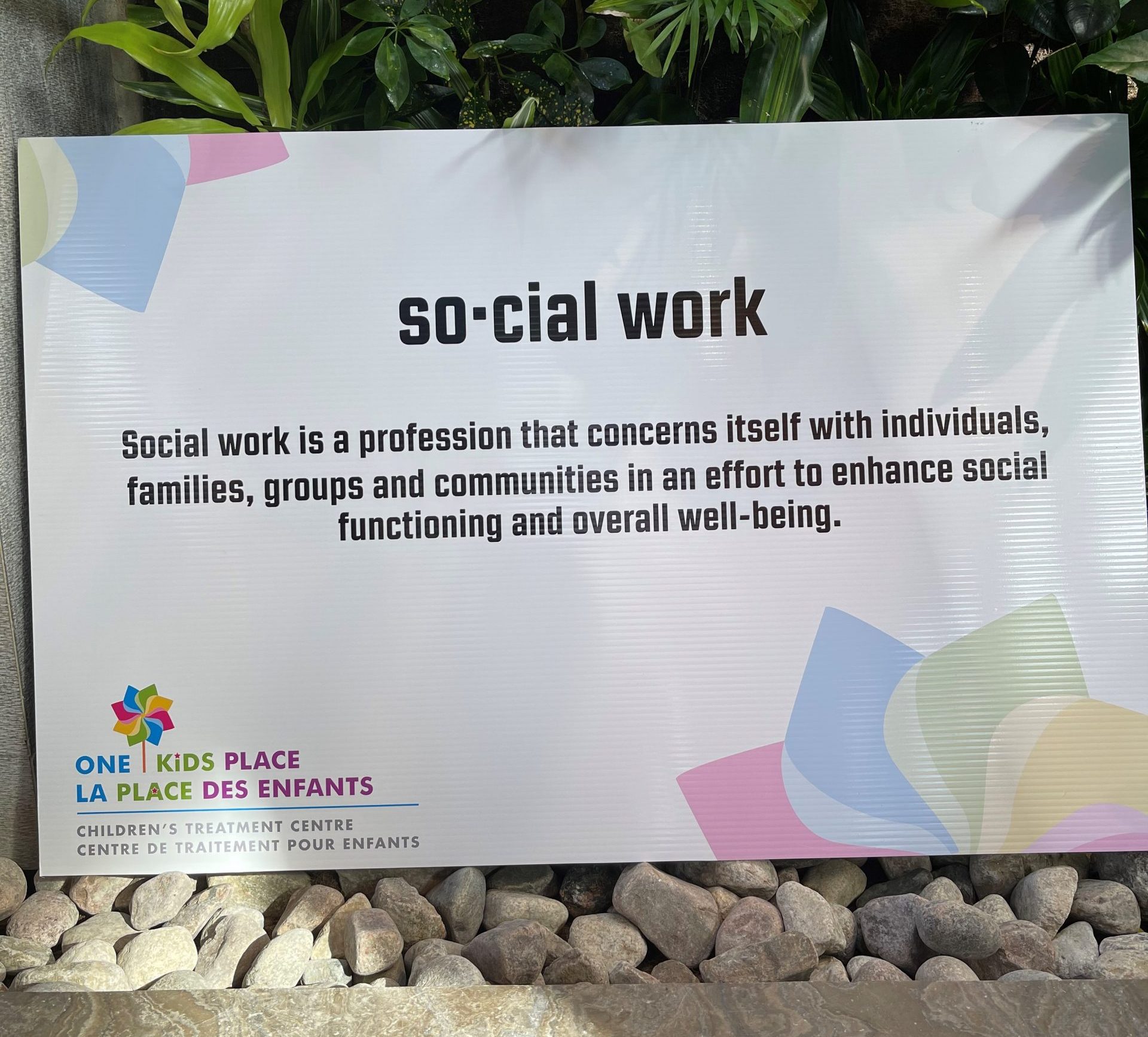 Children and youth (up to 19 years of age, or 21 if they are attending secondary school) who reside within the Districts of Muskoka, Nipissing and Parry Sound with a physical, developmental or communication disability.
Children and youth must be currently receiving one of the primary services at One Kids Place to be eligible. Waitlist spot holders are acceptable.
Referrals can be made by a parent, caregiver, family physician, pediatricians and/or other third party referrals with parental consent:
Are Canadian children getting enough sleep? – Infographic
To be as healthy as possible, children need adequate night time sleep.
Sleep Hygiene for Young Children & Teens – PDF Download
Sleep Hygiene – PDF Download
'Sleep hygiene' is the term used to describe good sleep habits. Considerable research has gone into developing a set of guidelines and tips which are designed to enhance good sleeping, and there is much evidence to suggest that these strategies can provide long-term solutions to sleep difficulties.
Ontario Increasing Mental Health Support During COVID-19 – News Release
Additional Resources will Improve Access to Online and Virtual Supports. Ontario government is making it easier for everyone, especially those on the front lines, to reach out for mental health support during the COVID-19 outbreak.
Funding & Financial Supports Guide for families who have children with disabilities – PDF Download
This is a list of some government funding programs, charitable organizations, recreation and housing funding sources and other financial resources that may be helpful to families.
Financial Tips for Parents of Children with Special Needs – PDF Download
Children and youth with special needs have medical, emotional, developmental, mental or behavioural problems that require ongoing help and support.
Canadian Mental Health Association (CMHA) Resources
Self-Care Wheel – PDF Download
A tool for managing stress and achieving happiness.
Challenging worries and anxious thoughts – PDF Download
Coping with stress and anxiety during the COVID-19 pandemic.
Dealing with problems in a structured way – PDF Download
Coping with stress and anxiety during the COVID-19 pandemic.
Talking to children about COVID-19 and its impact – PDF Download
Coping with stress and anxiety during the COVID-19 pandemic.